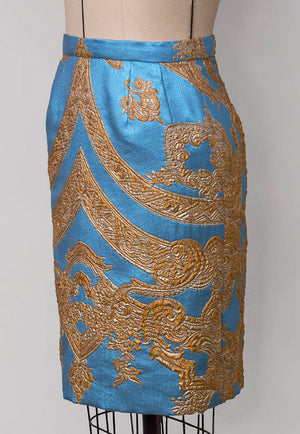 A Custom Pattern Designed by Susan Khalje in collaboration with Julian Cristofoli Sent Directly to Your Doorstep: This exclusive pattern has been personally designed by Susan Khalje. Each pattern includes two full size ranges for every fit (4–14 & 16–24). Susan will also carefully walk you through every step in choosing the right pattern size and fabric!
Instant Access to Full Length Step-by-Step Instructions: When you sign up for Susan's Couture Skirt course, you will have instant access to over 4 hours of careful instruction for you to learn at your own pace at any time.
High Definition Streaming Video on Multiple Platforms and Devices: View your new Couture Skirt course in high definition on your computer at home, your tablet while working in your studio or even your smart phone while on the go.
COURSE CHAPTERS
Chapter 1 – Overview

Chapter 2 – The Muslin

Chapter 3 – The Underlining

Chapter 4 – The Fashion Fabric

Chapter 5 – Construction

Chapter 6 – Lining & Waistband

Chapter 7 – Finishing Details
Susan Khalje is a couture sewing expert and educator with over 35-years of experience. She was awarded with The Association of Sewing and Design Professionals' Lifetime Achievement Award. Susan established The Couture Sewing School in order to teach others around the world. Aside from establishing The Couture Sewing School, Susan has also published numerous of books like Bridal Couture: Fine Sewing Techniques for Wedding Gowns and Evening Wear (Krause) and Linen and Cotton: Classic Sewing Techniques (Taunton)which are the best sellers.
It was such an exciting time, being able to sew for hours a day and do exactly what I love, that things have paled in comparison since then.  Work isn't very exciting anymore I just want to sew.

Gabrielle
I just wanted to thank you again for an absolutely amazing week of learning. Not only did I come away with a gorgeous jacket but my levels of confidence and sewing inspiration were increased tenfold!

Mauve
I am so enjoying your online course The Couture Dress. You are so delightful with your presentation and what makes the course so great is your heartfelt commentaries about the process not just the procedures.

Nancy
YOU MAY ALSO BE INTERESTED IN: