Welcome to Susan Khalje Couture Videos!
Get access to Susan's growing library of instructional videos now available on demand. Select from a range of classes, skill levels and techniques. Our videos are optimized to play on any computer, tablet and/or mobile device, making it convenient for you to watch ahead of time or along side while you work.
With each course, you receive the following:
- Instant Access to Full Length videos for three years.
- Custom pattern designed by Susan Khalje sent right to your doorstep.
- Multi-platform accessibility on i-pads, mobile phones, laptops, etc.
Courses:
The Classic French Jacket
The Classic French Jacket is a shoulder princess-seamed jacket, and what really sets it apart is a very lovely three-piece sleeve with an outside vent. You'll see, in the course of making your own jacket, the advantages of the sleeve – to my mind, it's one of the magical parts of the whole project – for its movement, for its beauty, and for its clever placement of the trims and the buttons.
The Cocktail Dress
The Cocktail Dress is a fitted princess sheath, made elegant by the addition of lace at the yoke and in the skirt. It's constructed from start to finish with a full range of couture techniques: a muslin, underlining, hand stitches, finishing details… and you'll find it's a design that easily lends itself to variations; in fact, different bodice and hem treatments are included in the pattern.
Free Videos:
Things to Bear in Mind When Choosing Fabric
For a simple garment, a few easy calculations will tell you how much fabric you need. I'll also discuss some of the factors I take into account when I'm choosing a fabric and trying to figure out how much of it I'll need.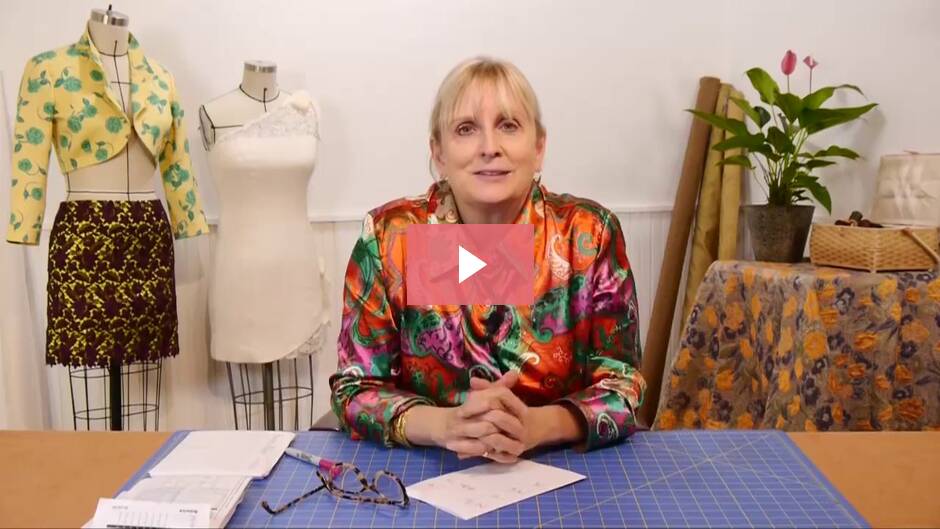 Choosing the Right Pattern Size
While any sewing pattern is just a starting point, choosing the right size is essential. I'll share an easy technique that will point you in the right direction, for once and for all!
Upcoming Courses:
The Lace Class
Nothing is more beautiful than fine lace when used to its best advantage. You'll learn how to choose it and use it as we construct an Alencon lace bolero and a Guipure lace skirt.
Coming Soon!
The Couture Notebook
The world of couture sewing broken down into all its components…they're all here, from the essential hand stitches to all the finishing touches. It will be your reference for all the elements that you need to know.
Coming Soon!
The Little Black Dress
This basic – yet very special – dress is one of the cornerstones of the couture wardrobe. You'll learn how to make – and use – a muslin as we explore fabrics, seam treatments, construction, design options, finishing touches…it's the perfect canvas for couture techniques.
Coming Soon!
The Corset
It's a fabulous garment, with its metal busk that hooks up the front, and its grommets and laces in the back. I'll share my couture version of this fascinating – and alluring – garment that's been around for centuries.
Coming Soon!
The Skirts Class
You'll learn how to make two versions of a wardrobe essential: a pencil skirt with a traditional waistband, and a gored skirt with an inner grosgrain waistband and a flounce at the hem. A simple garment can be a wonderful opportunity to get acquainted with couture techniques – we'll cover making a muslin, choosing and using underlinings and lining, two different waist treatments, two hand-picked zipper techniques, and much more.
Coming Soon!